Last updated on January 13th, 2023 at 08:24 pm
If you are looking for step by step guide on how to permanently restore black plastic trim or maybe you would like to know what is the best product to restore black plastic trim well, this article is for you.
In this post I am will you show both how to restore black trim around car windows, a plastic trim and even how to restore faded plastic bumpers.
So if you are interested in any of these topics on how to restore black trim on car, then let's go.
Car trim is a material that is usually found on both old and new models of cars. It does not matter how you maintain your vehicle, the car trim usually fades after a long time.
It is an exterior feature of a car so it is not immune to fading. If you notice the trim of your car is fading, there is no need to worry.
It is one of the things a vehicle must experience in its lifecycle. If you use your car for a long time, most of its exterior parts will begin to fade or wear. Trim is exposed to lots of elements that make it fade as time goes on.
Quality of the plastic trim of your vehicle determines how quick it will fade. Some other important factors include environmental condition, and age of the car.
The only way you need to improve the life of your trim is by applying permanent trim restorers as they provide the needed protection against the elements that affect your car trim.
Related Article:
What is Trim on a car?
The trim on a car is one of its exterior features. Every vehicle usually has black plastic trim on its front and rear bumpers.
It is also around the side windows, on the door, and around the front and rear glass. One thing about the plastic trim is that it ages as time goes on.
The more you use your car, the more the black plastic trim fades. The sun is also a factor that affects the look of your car.
The black plastic trim begins to lose its black color and this might affect the physical appearance of your car. However, you can get back the blackness of your plastic trim within a short time.
Why car trim fades
You don't have to worry if you notice the appearance of your vehicle is changing due to fade of the trim.
Since the plastic trim is part of the exterior features of the car, it loses its color and shine as time goes on. Some of the things that could affect the appearance of your plastic trim are:
UV radiation: Most cars are parked outside and under the sun. The sun affects the exterior of every car much more than you could think.
The ultraviolet rays from the sun can fade the plastic trim of a car in within a very short time. It begins to lose its blackness due to its exposure in the sun for many times. It fades faster if there is nothing protecting it.
Road grimes: Another thing that could affect your trim is the contaminants the vehicle comes in contact with while on the road.
Most of them contain elements that could increase the rate at which your vehicle is fading.
To dive into the restoration part lets first address can you permanently restore plastic trim really?
Some persons will think this not possible but let's find out.
Can you permanently restore plastic trim?
Well the answer is yes, it is very much possible to permanently restore black trim on car.
And there are ways to restore your fading plastic black trim to make permanent. However, the safest way possible is the use of Permanent trim restorer.
This is a way you can give your trim a factory finish and restore its color. It also provides the needed protection against external factors that could affect it.
There are lots of trim restorers that guaranty a longer life span for your trim. When you apply the restorer, you will be able to protect your trim for years.
What is the best product to restore black plastic trim?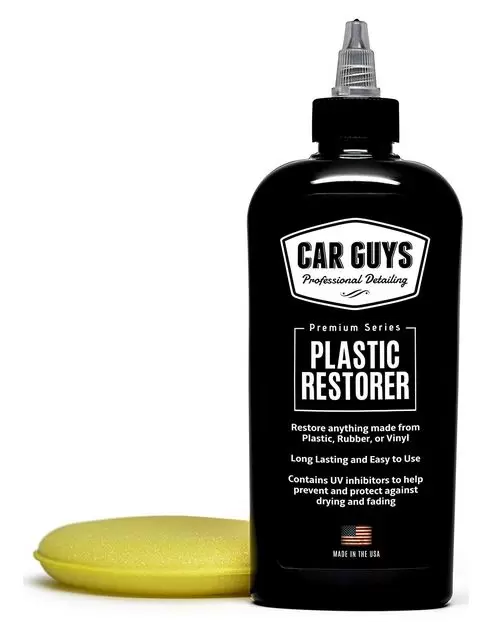 This product is one of my best to restore black trim on car and any other kinds of fades on vehicles. It is formulated in such a way that it can restore and renew plastic, vinyl, or rubber.
When you apply it on your black plastic trim, you are guaranteed a long life span.
Although it is a bit pricey than its substitutes, it is totally worth it. This product repels water so your black trim can survive the rain without having any ugly streak.
CarsGuy plastic restorer is completely and environmentally safe to use. There are no toxic chemicals that could cause an oily mess.
You can apply it to your vehicles, RV, motorcycles, and accessories.
It is about $16.97 as of the writing of this article though you look up the current price for this trim restorer here on Amazon.
How to permanently restore black plastic trim
Restoring a faded plastic trim is something you can do yourself at home. It is very easy to restore a trim. Follow the steps below to restore color back to your car trim
Step1: Cleaning of the vehicle
The first thing you need to do is to clean the sections of the car you want to work on. There are lots of cleaning products that you can use.
You should wipe the area down using a cloth. Another thing you can do is to wash the entire car.
Step two: Masking off areas
What you have to do next is to mass off all the areas you don't want to work on. The reason for this is to avoid spilling the product you are using on surrounding areas like window glass, or car paintwork. You can use tape to mask the area off.
Step 3: Degreasing
This step depends on the type of trim spray you are to use. If your kit requires this process, then you need to do it.
Spray the area using the degreasing spray and get rid of any dirt. Finish it off by cleaning the trim to give it a smooth look.
Step 4: Dressing
The next thing to do is to open the product you want to use in restoring the faded plastic trim.
You should begin to dress the plastic trim using a built-in applicator. You should read the instructions on the body of your product to know how to go about it.
The number of times you will apply the restorer depends on how badly faded the plastic trim is. If the color has almost vanished, then you need to put it multiple layers of products.
This is to ensure you get the outcome you desire. Make sure you apply it thoroughly and avoid having any streak. After application, wait for the restorer to dry.
Step 5: Removing the masking take
After apply the black plastic trim restorer and you notice there are no streaks, then you need to remove all the tapes. Once you do this, you will be able to see and admire your finished work.
How to restore faded plastic bumpers
Another part of the car that loses its color as time goes on is the plastic bumper. They are prone to fading if they have been used for a long period of time.
It is quite easy to bring back its natural color. You can choose to use a heat gun, rub olive oil, or spray black paint on it.
Spraying black paint is an effective way to get your plastic bumper to its former state. It will give it a sleek look and make it shine again.
First, you have to thoroughly wash the plastic bumper to get rid of any dirt. Then, you can follow the instructions on the paint you want to use.
Make sure you follow it very well so that your bumper can have a sleek and attractive look.
How to restore black trim around car windows
If you want to restore black trim around your windows, all you have to do is to follow the same steps mentioned above.
You need to wash off the vehicle at first and then use tape to keep away the entire surrounding area on the car window.
This is to prevent the restorer from getting to areas it should not reach. Once you have done that, you can go ahead to apply the product of your choice on the faded trim. Here is the trim restorer I recommend.
You should follow the set of instructions on the product for effective results.
To restore black trim on car is not a complicated process. You can permanently restore your vehicle's black plastic trim with various restorers as long as you follow the steps above in applying the restore on your trim and I am certain that your car trim will maintain its blackness for a long time.
I hope this article on how to permanently restore black plastic trim has helped you, it has please don't forget to share and bookmark this post for future reference.
What to Read Next: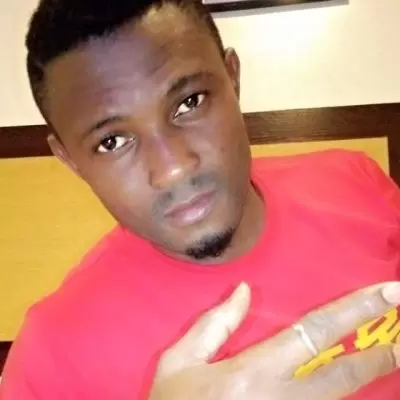 Hi dear, I am Dennis Gift, an autobody repair technician with over 4 years of experience; and I love everything about fitness and cars and researching and sharing my experience.   And this is where I get to do that freely without reservations. So come along with me.