Last updated on January 13th, 2023 at 08:23 pm
Hey, in this post we talked about how to fix Subaru head gasket issue or problem especially a leaking Subaru head gasket fix, some of the best Subaru head gasket replacement kit and finally 2 best head gasket for subaru ej25.
Subaru is a well-known car brand that has been around for decades. They are amazing with a very loyal customer base.
As all other brands have one challenge or other, Subaru's 2.5 L engines are known to have head gaskets damage.
This problem began in 1990 and has been associated with the Subaru brand till date.
It has affected their models such as Subaru Baja, Subaru Impreza, Subaru Forester, Subaru Legacy, and Subaru Outback.
Once these cars develop gasket problems, they need to be fixed before they continue to run. This, in most case will display an Oil Temp Light, however, repairing a leaking Subaru head gasket may cost about $1100 to $1200.
A head gasket is a strip of metal with a lot of holes placed between the block and the cylinder within the assembly processes.
What it does is that it absorbs all the energy between the metal components which are near to the engine.
Related Article:
Leaking Subaru Head Gasket Fix (How to Fix Subaru Head Gasket Issue)
The head gasket's main purpose is to keep the coolant in its passage and the oil in the correct passage.
It works directly with the engine and adjusts position, as the engine temperature moves from cooling to heating and vice versa.
If the gasket fails, it will not be able to contain all the pressures that are inside. With this, the explosive forces will be in wrong places. What that means is that the oil and coolant will get into wrong places.
If you notice that the temperature gauge of your Subaru is running unusually hot, then it is very possible that your head gasket is faulty.
So get in fully to this post, let's look at how to fix a blown head gasket without replacing it which is most applicable to Subaru head gasket with a leaking problem.
How to fix a blown head gasket without replacing it
The best way to fix a blown head gasket especially if it just leaking problem, is to use a head gasket leak sealer. There are various types of sealer like K &W, Steel Seal, and lots more.
If you choose to use a sealer, there is no reason to disassemble any component of your Subaru.
You can get these products on the internet. You can also minimize the cost of repairing the head gasket without hiring any professionals.
What is expected of you is to add whatever sealant you choose to the car's coolant system. It is very easy process.
The first thing you need to do is to make sure the car engine is cold. Once you have done that, add the sealer to the coolant.
The sealer will repair the molecular structure of the gasket metal thereby letting it function as it should.
After this, the sealer chemical will form a weld at the cracks and leaks thereby separating the chamber and coolant.
Most of the top head gasket sealers will work very well either with a steel and aluminum gaskets.
After you have added the sealer to the coolant system, you can now start the engine of your car to a temperature of about 210 degrees.
Then let it cool down. After that, repeat this process again few times.
If you cannot get a hand of it, it will be advisable to take your Subaru to a repairer. You should avoid damaging it more than it already is.
Subaru head gasket replacement kit
1, PT Cylinder Head Gasket 2.5 SOHC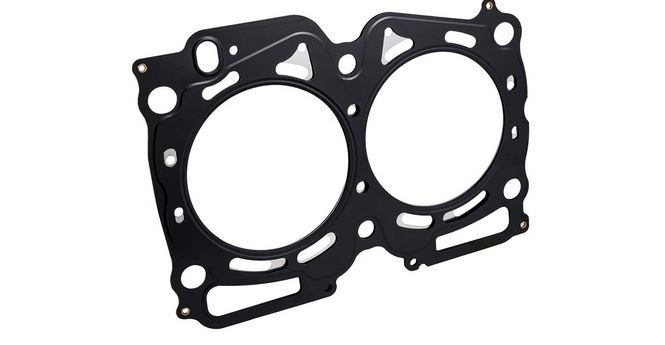 This head gasket is designed for a 99-03 Subaru Legacy Outback. It is built to meet all the specifications of the original equipment. It is a specific design that has a perfect fit and provides a robust seal which is used to contain the combustion pressures and temperatures. PT Cylinder has high quality and can withstand the casting motion of today's automotive engines. It is sold at $26.99. You can purchase it here.
2, Fel-Pro Cylinder Head Gasket Set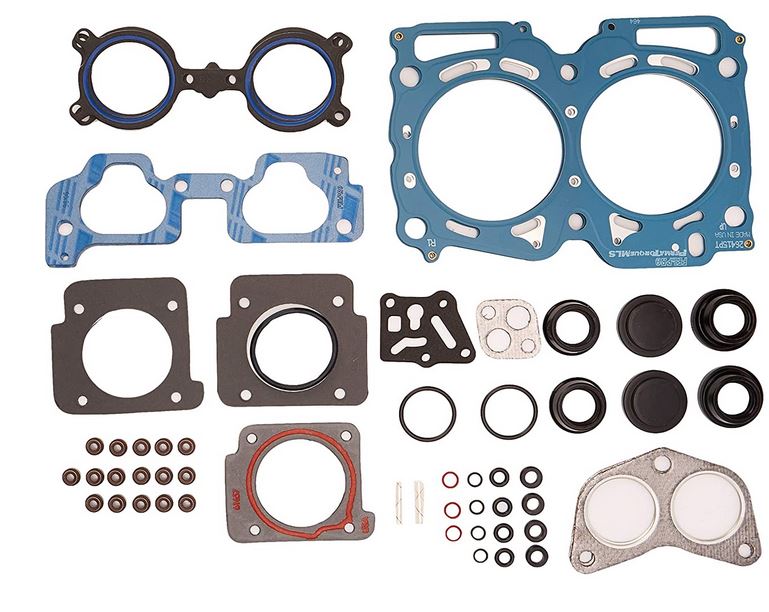 This product has an exclusive coating that withstands rougher sealing surfaces. It has a sealing bead which gets rid of leak paths. In addition to that, it has various layers of stainless steel used to maintain the stress of sealing and accommodates head lift. Fel-Pro also allows high cylinder pressures and head movement with engines. It is sold at $163.26. You can purchase it here on Amazon.
This head gasket kit will fit a Fits 04-09 Subaru 2.5 SOHC EJ251 EJ253 perfectly. It has a guarantee of meeting and exceeding the specifications of the Original that is being replaced. It is very durable and will last long. The quality belt construction is durable and has high performance. This product comes with a timing belt and tensioner pulleys which will replace the timing system. It is about $254.95. You can obtain it here on Amazon.
4, OEM Subaru MLS Head Gasket Kit
This is a genuine kit for your Legacy Forester Outback Impreza Baja SOHC. According to reviews online, it exceeds expectations. It is designed with multi-layer steel. You can get it here on Amazon.
2 Best head gasket for Subaru ej25
EJ25 Engine Full Head Gasket Set
This gasket set is Compatible with 1999-2003 Subaru 2.5L. All its components are observed closely and meet the requirements of the original. It has 2 years or 40000 miles guarantees. Before purchasing you need to check the car model and be sure it will work with it. It is about $51.45. You can purchase it here on Amazon.
DNJ HGS715 MLS Head Gasket Set
This will fit the following model: 1999-2011 Saab, Subaru, 9-2X Baja, Forester, Impreza, Legacy, Outback, 2.5L H4 SOHC, EJ251, EJ252, EJ253, and EJ259. This is a premium sealing solution which is a perfect replacement for your Subaru. You may buy it here on Amazon.
How to fix Subaru head gasket issue
Earlier in this post, I mentioned how you can use a sealant to fix a blown head gasket. If your Subaru head gasket is faulty, it is advisable you take it to a Subaru technician for fixing.
The repair is too complex and so, needs an experienced person except if it just a leak problem.
The cost of fixing a head gasket is around $1100 to $1200. You will add an additional $700 to the bill if you consider other parts like a seal, water pump, timing belt, and idlers.
A Subaru with an automatic transmission will cost you about $2500 to $2700. If the issue with your gasket is something that needs replacement, it will take two days. The engineer needs enough time to fix it perfectly.
Conclusion on Leaking Subaru Head Gasket Fix
In this post I have shown you, how to fix Subaru head gasket issue when it is a leaking problem which basically the best way to Subaru head gasket fix without replacing it.
I am sure with the selection Subaru head gasket replacement kit above and the 2 best head gasket for Subaru ej25 picked out above you are able to find what you want.
When thinking of how to fix a blown head gasket without replacing it, you need to watch out for symptoms of Subaru head gasket failure so you may know when to take it for repair. When fixing it let your technician advise you on the best replacement kit to use, if none of the ones mentioned in this post suits your Subaru model.
Related article:
Hi dear, I am Dennis Gift, an autobody repair technician with over 4 years of experience; and I love everything about fitness and cars and researching and sharing my experience.   And this is where I get to do that freely without reservations. So come along with me.